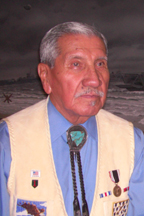 Charles ShayCharles Norman Shay is a tribal elder in the Penobscot Indian Nation and a combat veteran of several wars. Born on 27 June 1924 in Bristol, Connecticut, he is the eighth of nine children of Leo Shay and Florence Nicolar, daughter of Joseph Nicolar, author of the 1893 classic book Life and Traditions of the Red Man. As a five-year old boy, he joined his parents moving back to their tribal reservation village on Indian Island in Maine. Many generations of his ancestors, including Lieutenant-Governor John Neptune (a famous shaman-chief in the early 1800s) and Chief Joseph Orono (who had led his warriors in support of the American Revolution), had lived and died on this island. Attending school in Old Town on the mainland, as the only Indian boy in a class of 40 students, he crossed the river by ferry or canoe, or walked across the ice in the winter. In April 1943, almost a year after graduation from Old Town High School, Charles was drafted into the US Army and trained as combat medic. He joined the 1st Infantry Division, 16th Regiment, 2nd battalion, then garrisoned in southern England. Also known as the Big Red One, this Division had successfully campaigned against German enemy forces in North Africa and Sicily. Experienced in amphibious landings, it was now preparing for the invasion of Normandy. As a combat medic, Private Shay was assigned to an assault battalion in the first wave of attack on 6 June 1944. For his valor on the battlefield, having rescued drowning wounded comrades under enemy fire, he received the Silver Star. After frontline duty in the battles of Aachen, Huertgen Forest, Ardennes (Battle of the Bulge) and the Rhine (near Remagen), he was captured in the Sieg Valley. Spending nearly a month in German prison camps, Shay was liberated on 18 April. In Fall 1945, after World War II had ended, he was awarded four bronze battle stars and demobilized.

Facing unemployment on the Penobscot reservation, Shay reenlisted as a medic the following spring and joined the Military Police Company headquartered in Vienna in late 1946. After four years in Austria, where he met his wife Lilli, he returned to the US. In 1950, he was assigned to the Medical Company of the 3rd Infantry Division's 7th Regiment, which was sent to Japan when the Korean War broke out. In November 1950, he landed in North Korea where his Division fought against the invading Chinese army. Promoted to Master Sergeant, Shay received the Bronze Star with two Oak Leaf Clusters for Valor and was nominated for a second Silver Star.

Six months after his honorable discharge from the US Army, Shay joined the US Air Force Reserve in February 1952 and a year later became an active-duty Master Sergeant. After several months, he was transferred to the Tinker Air Force Base (Oklahoma) as a medic for the 6th Weather Squadron. As a member of that mobile squadron, he traveled to the Marshall Islands in the southern Pacific Ocean and participated in a series of atomic bomb tests ("Operation Castle") at Eniwetok Proving Grounds in 1954. In 1957, having been reassigned several times, Shay returned to Germany, joining the US Air Force Hospital in Wiesbaden. There his son Jonny was born. Shay's last active duty military position was at the US Air Force hospital at Sembach, the Cold War airbase for the Tactical Missile Wing in Germany. In the summer of 1964, after more than twenty years in the US military, Master Sergeant Shay retired and moved to his wife's home city in Vienna. A year later, he obtained a position with the International Atomic Energy Agency (IAEA), headquartered in Vienna.

At age 60, after 20 years with the IAEA, Shay retired from that United Nations (UN) agency. He then spent three years as a security officer at the Vienna-based office headquarters of the UN High Commissioner for Refugees, leaving that post in November 1988. That year, while vacationing in the Penobscot Indian village, he inherited the house and tipi of his mother's sister Lucy Nicolar and her Kiowa husband Bruce Poolaw. In the years that followed, he and his wife summered on Indian Island, gradually restoring the old family property. In 2003, having sold their home in Austria, Shay and his wife settled permanently on the reservation, where she died soon thereafter. Since then, he has dedicated himself to preserving and promoting Penobscot cultural heritage. In addition to running a small museum in his tipi, he has also published booklets by and about Penobscots, and facilitated in the publication of a new edition of his grandfather's book, Life and Traditions of the Red Man (Duke University Press, with a Preface by Shay).

On 6 June 2007, Maine State Governor John Baldacci paid public tribute to Shay, issuing in his honor a proclamation declaring that day "Native American Veterans History Day." He also received an official Sentiment from the Maine State Legislature, recognizing his heroic military service. In October 2007, he revisited Omaha Beach and other battlefields in Western Europe, a journey funded by the Maine Humanities Council and the First Division Museum. On 6 November 2007, the President of France, Nicolas Sarkozy, personally awarded him the prestigious medal distinguishing this Penobscot Indian combat veteran of Omaha Beach as a Chevalier in the Légion d'Honneur. Special Thanks to Bunny McBride and Harald Prins for this Biographic Sketch of Charles.
For more information on Charles Norman Shay please visit www.charlesnormanshay.com