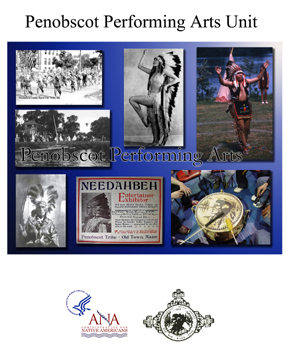 Penobscot people have a history of performing as "Indians" in vaudeville acts, at Wild West shows, at tourist resorts, and at sportsmen's shows – often as a way to pay the bills. However, many of these performers – Frank Loring known as Chief Big Thunder, Molly Nelson known as Molly Spotted Elk, Roland Nelson known as Chief Needabeh, and Lucy Nicolar know as Princess Watahwaso – left a lasting legacy in Penobscot history.
This unit highlights the rich singing, dancing, and regalia tradition – much of it the same as you might find in a modern day competition pow-wow.
Students will learn about the important role that economics played in performance arts, the entertainment history of Penobscot people, modern-day pow-wows, including songs, dance and dress, and the cultural and historic significance of Penobscot music and songs.